Chiropractic Care for Whiplash Injuries:
Drug-Free Relief for Your Pain
Have you recently been in a car accident? If you are experiencing neck pain and stiffness, recurring headaches, or migraines, you may be suffering from a whiplash injury. Whiplash injuries are one of the most common auto accident injuries and without proper care, these injuries can have a serious impact on your quality of life. Our chiropractor Dr. Skocik has substantial experience treating patients from Harrisburg, Hershey, Progress, Colonial Park, Lower Paxton, and Grantville, PA for whiplash-related neck pain, migraines and other health problems. Using a combination of chiropractic adjustments and cutting-edge spinal decompression therapy, our auto accident injury chiropractor Dr. Skocik can relieve your pain without the need for drugs.
Our Auto Accident Injury Chiropractor Treats Whiplash Pain for Harrisburg, Hershey, Progress, Colonial Park, Lower Paxton, and Grantville, PA communities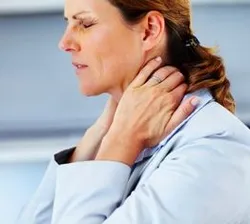 A whiplash injury typically occurs when the force of a rear-impact auto accident "whips" the neck beyond its normal range of motion. This whipping action will abruptly force the cervical spine backwards and forwards, damaging proper spinal alignment. When the cervical spine is out of alignment, a slipped disc can compress nearby nerves, triggering a radiating pain sensation. Symptoms of a whiplash injury include recurring neck pain, stiffness and soreness in the neck, pain or stiffness in the shoulders or arms, and recurring headaches and migraines. These headaches typically occur at the base of the skull and radiate outwards towards the forehead. In some cases, you may also experience difficulty concentrating or be unable to sleep at night due to the pain.

You do not have to be in a major car accident to sustain a whiplash injury. In fact, whiplash injuries can occur at speeds as slow as 5mph. As long as the spine remains out of alignment, you are likely to continue experiencing pain. For this reason, typical medical treatments like prescription painkillers are limited in their effectiveness. Medication can temporarily relieve pain by numbing the brain's ability to perceive it; however, once the drugs wear off, the pain will return. Chiropractic adjustments and spinal decompression therapy are two effective treatment options for relieving this pain – rather than simply covering it up. These treatment techniques are designed to address the root causes for a patient's pain – the cervical spine misalignment – and correct this problem.
Our auto accident injury chiropractor will first perform diagnostic tests to determine the extent of the spinal misalignment. Once the misalignment is identified, our chiropractor creates a customized treatment plan that integrates chiropractic adjustments with spinal decompression therapy, along with other complementary treatments, to relieve this pain. Spinal decompression therapy is a cutting-edge treatment that uses precise, computerized movements to safely decompress the cervical spine. This creates space between the vertebra, which in turn relieves pressure on the nerves for long-lasting pain relief.
In addition to chiropractic adjustments and spinal decompression therapy, corrective exercises are beneficial for restoring a full range of mobility to the neck after a whiplash injury. These exercises help combat the stiffness and soreness you may experience without causing any further pain.
To learn more about your treatment options, contact our auto accident injury chiropractor today at (717) 540-8448!

---
Related Pages