Chiropractic Care Herniated Disc Treatment
About Herniated Discs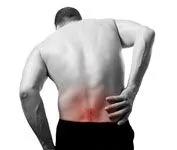 The bones of your spine, known as vertebra, are stacked on top of each other like a deck of cards. The configuration of your spinal column gives you great flexibility in your back, shoulders, and hips.

Inside a hole running up the center of your spinal column is your spine. Nerves protrude from the spinal cord through small holes in the vertebra then spread to the rest of your body.
Between each vertebra is a rubbery disc that acts a sort of a shock absorber to prevent the bones of your spine from grinding against each other when you move. The exterior of the disc is tough and rubbery; inside each disc is a jelly-like substance. The disks also help prevent the bones from pressing against the nerves to cause pain.
Sometimes called a "slipped disc" or "ruptured disc," a herniated disc happens when some of the jelly-like substance oozes out of a crack in the tough exterior. This substance sometimes irritates and presses against nerves to cause pain, numbness, or weakness in your arm or leg. In other cases, a herniated disc causes no pain at all.
How Herniated Discs Happen
Herniated discs are usually the result of gradual, age-related wear and tear, a condition doctors refer to as "disc degeneration." As you grow older, your discs lose some of their water content in a way that makes the rubbery exterior less flexible and more prone to tears and breaks with even the most minor twist or strain.
Most people cannot pinpoint the specific cause of herniation – it may have occurred when you lifted something heavy with your back instead of your legs or turning your body while lifting that object. Very rarely, a blow to your back or a fall might result in a herniated disc.
Some risk factors increase the likelihood you will suffer a herniated disc, including excess body weight, a job that requires repetitive lifting or other motions, and a family history of herniated discs.
Treatment for Herniated Disc Including Natural Pain Relief for Harrisburg, Hershey, Progress, Colonial Park, Lower Paxton, and Grantville, PA
Conservative treatment works for nine out of ten people with herniated discs, according to Mayo Clinic. Medications, including over-the-counter pain relievers and prescription drugs can relieve pain but they carry a risk for side effects, such as drowsiness, dizziness, confusion and constipation that can interfere with the activities of your daily life.
Chiropractic care provides lower back pain relief. Chiropractic care like that provided by Skocik Chiropractic Care Clinic includes spinal manipulation that helps relieve pressure on the nerves to provide lower back pain relief. We also offers therapeutic massage that relieves painful muscle spasms associated with herniated discs.
This approach to natural pain relief avoids the hassles, risks, and side effects associated with drugs. Chiropractic care is an effective long-term treatment plan for lower back pain relief.
Dr. Skocik can help relieve your sciatica pain with chiropractic adjustments and spinal decompression. Contact Dr. Skocik today at (717) 540-8448 and begin treatment to relieve your herniated disc pain tomorrow.