What is spinal decompression therapy?
Spinal decompression therapy is a non-surgical approach to rehabilitating the discs that cushion the bones of the spine. Spinal decompression therapy uses FDA-approved technology that gently stretches the spine in a way that decompresses, or relieves pressure, on those discs.
The spine is made of many bones, known as vertebra, stacked upon one another like a deck of cards. Rubbery discs, filled with a gooey liquid, lie between each vertebra to prevent the bones from grinding against one another. Gravity and body weight on the spine presses against these discs, causing them to occasionally "slip" out of place or develop a tear that allows liquid to seep out. The misplaced disc or its leakage presses against nerves to cause pain. Spinal decompression relieves the pressure on the discs.
How does spinal decompression therapy work?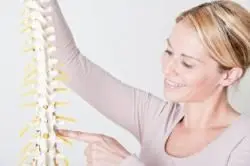 Spinal decompression therapy works by gently stretching the spine, separating the vertebral bones of the spine to cause a vacuum inside the discs. This vacuum effect, known as negative intradiscal pressure, pulls the disc back into proper shape and position. Spinal decompression therapy also helps discs absorb the water, oxygen and nutrient-rich fluids they need to begin healing.
What does spinal decompression treat?
Our chiropractors use spinal decompression therapy to treat a variety of conditions, including:
Neck Pain
Back Pain
Sciatica
Failed back surgery
Numbness and tingling in the upper or lower extremities
Bulging or herniated discs
Irritated and pinched nerves
What can I expect during spinal decompression therapy?
You will remain fully clothed during spinal decompression therapy, so treatment is never embarrassing. Our chiropractic team will fit you with two harnesses – one that wraps around your chest and another for your pelvis – and you will lie face up or face down on a computerized table. Your chiropractor uses a computer to operate the table, which gently decompresses the bones of the spine by applying a gentle pulling motion to each harness.
How long does a spinal decompression session last?
Each session on the spinal decompression equipment lasts about 25 to 40 minutes, depending on the treatment plan prescribed by our chiropractor. Your treatment plan may also include an additional 15 minutes of stimulation, ice packs and manipulation.
Does spinal decompression therapy hurt?
No. In fact, spinal decompression therapy relieves pain almost immediately.
My surgery failed. Can spinal decompression therapy help?
It depends on the type of surgery you had and your medical condition. While our chiropractors have had great success treating patients who have had back surgery, spinal decompression therapy is not right for everyone who still experiences pain or disability after surgery.
Why does spinal decompression require multiple treatments?
Each spinal decompression therapy session causes microscopic changes deep within the spinal discs. While the effects of each session are small, the cumulative benefits of a four to six week spinal decompression therapy program provide dramatic results.
Do you have a slipped or herniated disc that could benefit from spinal decompression? Call the office today to schedule a FREE initial screening (717) 540-8448.