Neuropathy Treatment in Harrisburg:
Patient-Proven Care Treats the Root Cause of
Your Pain
A neuropathy diagnosis can feel overwhelming and scary. It is natural to wonder what this diagnosis means for your health and what treatment options are available. You may be wondering, "Will I have to rely on medication or change my lifestyle? What is the cause for your pain and will it ever go away?" Our Harrisburg chiropractor Dr. Skocik is here to help. At Skocik Chiropractic, we fill the gap in the medical world and give patients an alternative treatment option when traditional medical care fails to resolve the problem. Our innovative treatment approaches combine patient-proven chiropractic care techniques with massage therapy and Thor laser therapy. Our neuropathy treatment goes beyond symptom relief: we treat the root cause of pain and discomfort.
Neuropathy Pain & Injury Treatment available for Harrisburg, Hershey, Progress, Colonial Park, Grantville, and Lower Paxton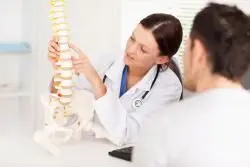 Our Harrisburg chiropractor treats a wide variety of neuropathy types, including

Peripheral Neuropathy
Diabetic Neuropathy
Sensory Neuropathy
Small Fiber Neuropathy
Neuropathy secondary to Spinal Stenosis
Neuropathy secondary to failed surgery syndrome
Additionally, Dr. Skocik treats secondary cases of neuropathy that occur in conjunction with spinal stenosis and failed surgery syndrome. Neuropathy is a medical term describing various injuries and diseases of the nervous system. A neuropathy diagnosis means that one or more of your nerves have been damaged, affecting the nerve's ability to send or receive signals from the brain. As a result, you may experience numbness, tingling, weakness or loss of feeling in the affected body part. Over time without effective treatment, this numbness may spread or worsen. In some cases, muscle weakness could intensify to paralysis.
Neuropathy treatment depends on the cause. For example, if tight or inflamed blood vessels are compressing the nerve and triggering irritation, massage therapy may be an effective treatment option. Misaligned joints in the extremities or back may also be affecting the nerve's ability to send signals to and from the brain. Correcting these misalignments will reduce signal interference and minimize pain. Dr. Skocik is one of the only chiropractors serving Harrisburg, Hershey, Progress, Colonial Park, Lower Paxton, and Grantville, PA to offer the innovative Thor laser therapy treatment. Thor laser therapy uses low level lasers for tissue healing, inflammation relief, and pain relief.
In addition to Thor laser therapy, physical therapy can help increase a patient's range of motion and further reduce daily pain. The goal of our physical therapy treatments is to progressively increase range of motion through stretching, isometric exercises and weights. Depending on the trigger cause for your neuropathy pain, these physical therapy treatments may be beneficial for bringing mobility, balance and strength back to the body.
In some cases, neuropathy may be linked to a nutritional deficiency or chronic ailment. In-depth nutrition testing allows our Harrisburg chiropractor to identify the specific nutritional deficiencies and create a custom treatment program to address this deficiency.
Contact Skocik Chiropractic for more information about our Neuropathy Treatments
Skocik Chiropractic is proud to be a leader in Harrisburg wellness care and neuropathy pain relief. Dr. Skocik treats patients in Harrisburg, Hershey, Progress, Colonial Park, Grantville, and Lower Paxton PA. For more information on our innovative and life-changing neuropathy treatments, call tel:(717) 540-8448.