Sports Injury Recovery and Rehabilitation with our Harrisburg Chiropractor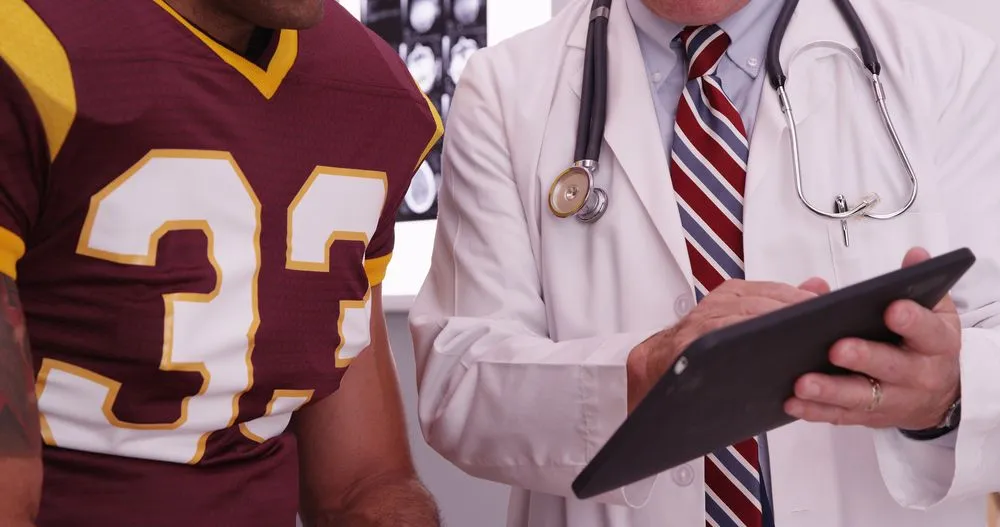 Exercise is good for you, but physical activity does put you at increased risk for a sports injury that causes pain and immobility. Sports injuries can be quite uncomfortable, causing pain that prevents you from working, going to school, taking care of your family or participating in your favorite activities.
Sports injuries can be acute, which means they come on suddenly and go away relatively quickly. Sports injuries can also be chronic, which means the pain and disability can persist for several months or longer. Proper treatment for a sports injury can reduce the pain, speed recovery and improve the results. Our chiropractor in Harrisburg PA provides sports injury recovery and rehabilitation that gets you back on your feet quickly.
The eight most common types of sports injuries are:
Achilles tendon injuries
Dislocations
Fractures
Knee injuries
Pain along the shin bone
Rotator cuff injuries
Sprains and strains
Swollen muscles
Sprains happen when you stretch or tear a ligament, which is a tough band of fibrous tissue that joins the ends of two bones together to create a joint. A strain is the stretching or tearing of a muscle or tendon, which is the tissue that connects your muscles to your bones.
Sports injuries affecting your knee include injuries to the anterior cruciate ligament (ACL), which prevents your shinbone from sliding out from under your thighbone. Those who participate in soccer, football, basketball and other high-demand sports are at higher risk of an ACL injury. Achilles tendon injuries affect the tendon that connects your calf muscle to your heel bone. People who participate in track and field, soccer, volleyball, softball, and racquet sports, such as tennis, are especially vulnerable to Achilles tendon injuries. Rotator cuff injuries affect the muscles and tendons that surround your shoulder joint. Baseball pitchers are prone to rotator cuff injuries.
Chiropractic care, massage therapy, and physical rehabilitation from our Harrisburg PA chiropractor can help you recover from these eight common sports injuries and many others.
Harrisburg Chiropractor Provides Chiropractic Care for Sports Injuries
The goal of chiropractic care for sports injuries is to help you return to your pre-injury level of physical fitness. Return from a sports injury can be a long process; corrective exercises and other types of care can speed your recovery and improve your results. Regaining your strength, agility, and athleticism may require the help of a medical professional. Our Harrisburg PA chiropractor provides quality chiropractic care for recovery and rehabilitation from sports injuries.
Schedule an Appointment with Your Harrisburg Chiropractor
Sports injury care always starts with a comprehensive evaluation of your musculoskeletal system and overall health. Our chiropractor will review your medical history, discuss your symptoms, and review your expectations for recovery. Depending on your condition, overall health and expectations, our chiropractor will develop a personalized chiropractic treatment plan especially for you. To schedule an appointment, call our Harrisburg Chiropractor at (717) 540-8448 today! today!